About me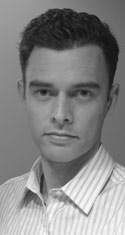 I'm a freelance web developer, competent in both front-end and back-end web development. I work with companies to create high quality, custom websites and web applications that are elegant and simple solutions to their unique requirements.
I specialise in web development with PHP, JavaScript, HTML and CSS. I have worked with a wide range of tools, frameworks and libraries, and always relish the chance to work with something new.
Experience
I have a Bachelor's Degree in E-commerce, with a web technology major, and I've been freelancing full time for over a decade.
I've worked on a wide variety of projects, ranging from informational content managed and e-commerce websites, up to custom business management web applications and extranets.
I have worked with businesses, graphic designers, website designers, IT service providers and other developers. I can offer a complete development service, or fill a specific role as part of a team.
Some of the types of work I've done...
Custom web applications

Content managed websites

E-commerce websites

Integrating payment gateways

Business extranets

Developing modules / extensions / plug-ins

Integrating third-party business management services

Custom CMS

Modernising existing framework

Dynamic PDF generation

Performance testing and optimisation

Migration and deployment
Personal
I'm 31 years old and live in Auckland, New Zealand. My other interests include playing the piano and going four wheel driving.